HG Technology Co., Ltd.--Tungsten steel milling cutters
---
HG Technology Co., Ltd., founded in Oct. 2002, is a professional manufacturer of tungsten steel milling cutters. The company is famed for its own brand of "HGT." The company has a production facility located in Homei of Changhua County, central Taiwan.
With an in-house professional work team, the company specializes in designing, marketing and manufacturing tungsten steel milling cutters. The company's products are suitable for a wide range of industries comprising electronic parts, aviation and space industrial parts, opto-electronics items, precision molds, medical equipment, etc.
Since its inception, the company has been focusing on developing the products featuring precision and long durability to help customers boost operating efficiency. To meet its goal of concentrating on high-end products, the company adopts Germany-made precision five-spindle cutter grinding machines and high-quality materials. To ratchet up the quality of its products, the company employs advanced optical measuring instruments.
The company's end mill is an ideal product for processing HRC65 molds. It is capable of designing specialized cutters in accord with the special requirements of customers from around the world.
By employing imported high-end steel, the company has built a reputation for providing high-quality end mill. The company's products can be divided into three major categories, including HGT, SMG, and MG series.
For instance, its entire HGT series is made of imported tungsten steel round stick by way of computerized strict quality-control measure. Its SMG series has advantages such as extra-hardness, strength, toughness, high wear-proof ability, which enables high-speed, precise cutting and processing on high-speed machines. The MG series is ideal for cutting general steel and soft materials, with excellent precision and wear-proof ability.
HG's products are mainly sold to domestic market, mainland China, Southeast Asia, the U.S., Canada, Latin America, Europe, Africa, New Zealand, and Australia. It has established sales agents in many industrialized nations.
To boost overseas sales, the company will take part in various internationally-recognized exhibitions held in the U.S. and Western Europe in the next years to come. (BS)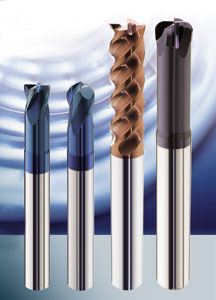 End mills made by HG Technology.

HG Technology Co., Ltd.
Tel: 886-4-736-2725
Fax: 886-4-736-8357
E-mail: hg.tech@msa.hinet.net
Website: www.hgt.com.tw